We can get the document you need from Argentina
We can also obtain specific documents for legal purposes or for genealogy.

For Argentinean, Spanish, Italian or Polish citizenship procedures:
Certificate of citizenship or non-citizenship from «Cámara Nacional Electoral» (Certificado de Ciudadano o no-Ciudadano de la Cámara Nacional Electoral).
Translations and legalizations at the Italian Consultate of Buenos Aires.
Certificates of military situation (Certificado de Situación Militar) for Polish citizenship.
For genealogy, and if  you already know your family in Argentina, you can also obtain documents in order to collect them, to discover new information or just for legal procedures.
The following are examples of Birth, Marriage and Death Records, and the information that they may include.
Birth Records:
You should obtain:
Names of the parents and grandparents of the newborn
Date, hour and place of birth
Nationality and address of the parents
Marriage Records:
You should obtain:
Date of the marriage
Names of the groom and bride´s parents
Names of the witnesses (commonly from the family)
Adress of the groom and bride before marriage
Death Records: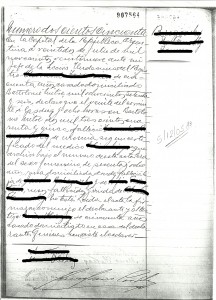 You should obtain:
Date and cause of the death
Names of the parents
Names of the witnesses
Last address